Fun Ship Freddy and Ellie Elephant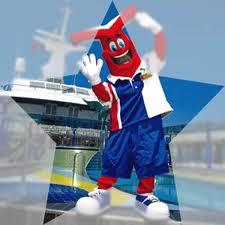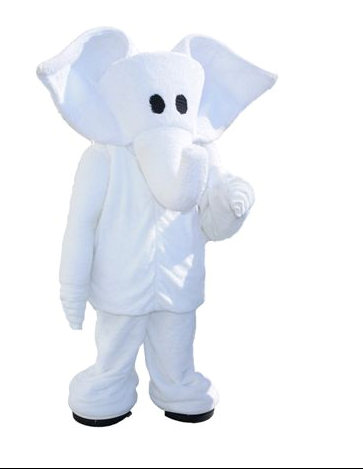 Fun Ship Freddy entertains guests of all ages sailing aboard select ships in the fleet and is modeled after the line's signature red, white and blue winged funnel. He is the personification of Carnival's 'Fun Ships', sharing smiles and high fives wherever he goes. Fun Ship Freddy has become very popular with our returning guests and sometimes you can find him around the ship surrounded by fans enjoying his attention and sometimes even asking for his autograph.
Decked out in his customary uniform, the six-foot-tall mascot features expressive eyes, a perpetual white-toothed grin, oversized white gloves and sneakers, and of course, the requisite Carnival I.D badge. On Elegant nights, Fun Ship Freddy dresses for the occasion, looking smart in his tux and bow tie. 
Fun Ship Freddy interacts with guests of all ages and poses for photos throughout the voyage and is often found in the children's play area, the focal point of many Camp Carnival activities, where he loves to get his groove on at the children's parties.
A line of Fun Ship Freddy products have been created for the ultimate fan to take Fun Ship Freddy home. From plush toys, to story books, T-shirts and even a stuffable build-your-own-Freddy, which can be purchased fleet wide from Camp Carnival.

Ellie Elephant, inspired by Carnival's highly popular towel animals – an iconic element of the 'Fun Ship' vacation experience that greets guests as they return to their staterooms each evening – the line introduced Ellie Elephant, a six-foot-tall 'towel elephant' who become an on board favorite. Ellie frequently interacts with guests along the promenade and makes regular visits to the Camp Carnival play area, posing for photos and keeping kids amused and entertained.
Your rating has been submitted, please tell us how we can make this answer more useful.
For a question unrelated to this article
Click Here